State of the Art
Contemporary Art Anthologies
Designed in California and published annually, our books are curated art anthologies presenting select master artists from around the world. The books present a wide range of contemporary practices, providing an index of artists for collectors, galleries, curators and art professionals.
International Art Fairs
World Wide Art Pavilion
Every year we participate at some of the world's top art fairs, representing our artists at leading art events like the New York Art Expo, Spectrum Art Fair in Miami, Art San Diego and more. These art fairs are a must for the active artist seeking to exhibit, sell art and network. 
At Art San Diego 2018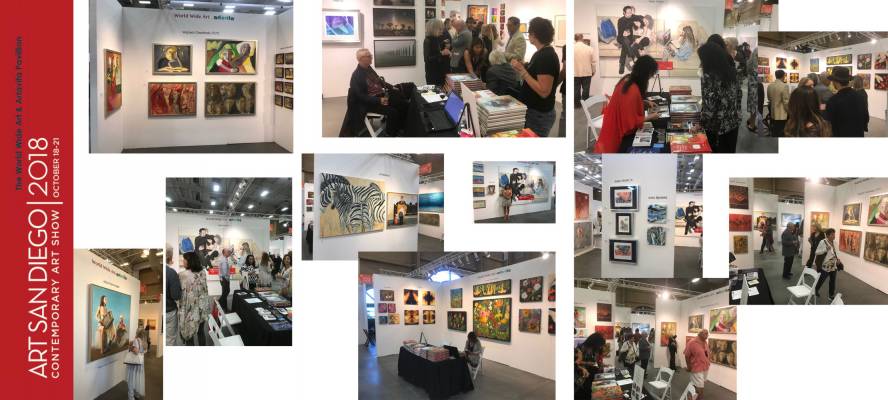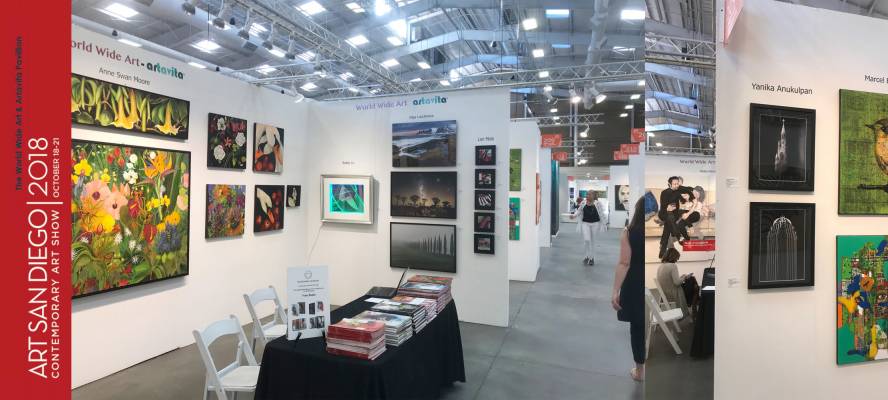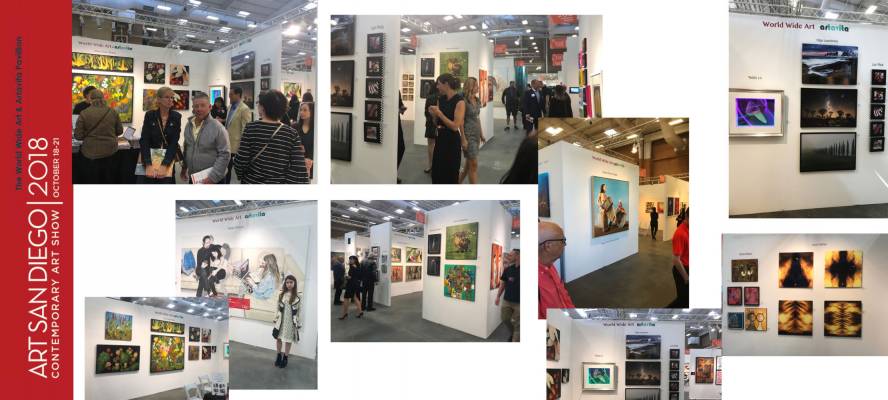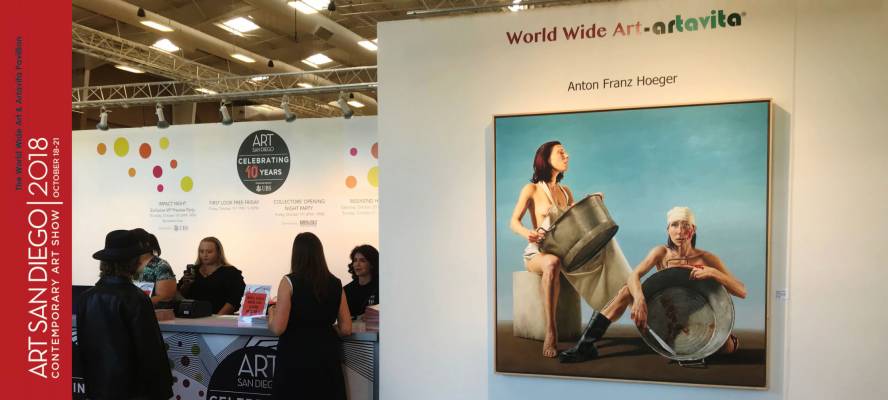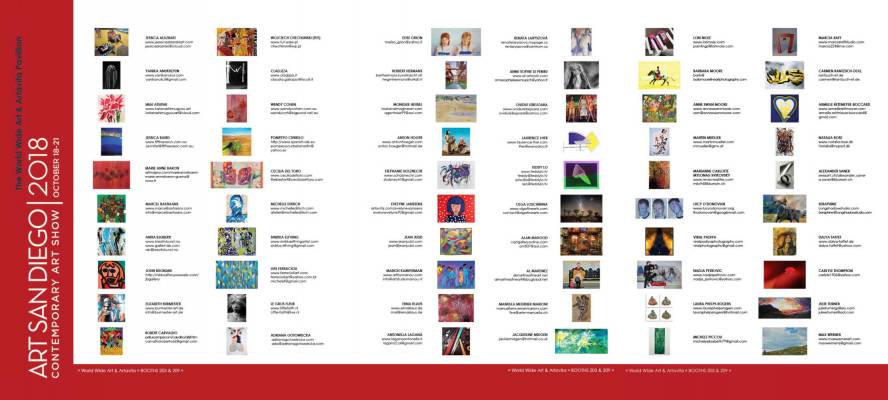 At Art Expo New York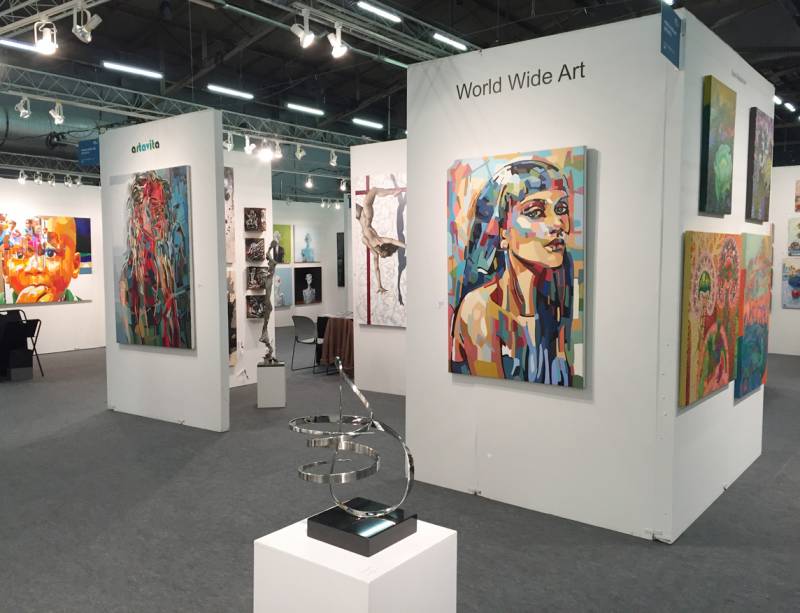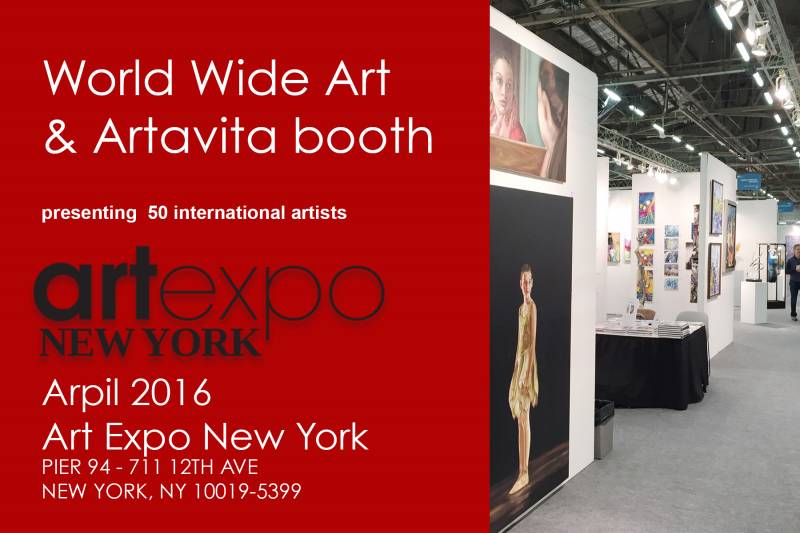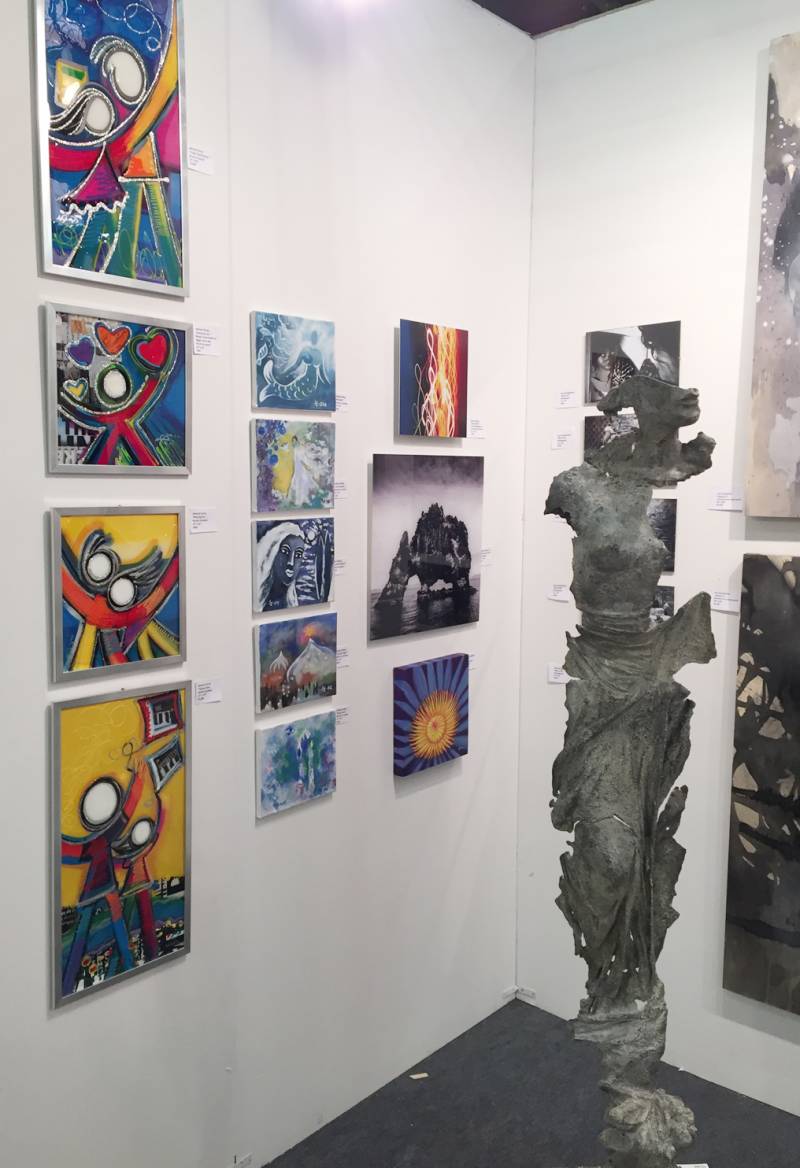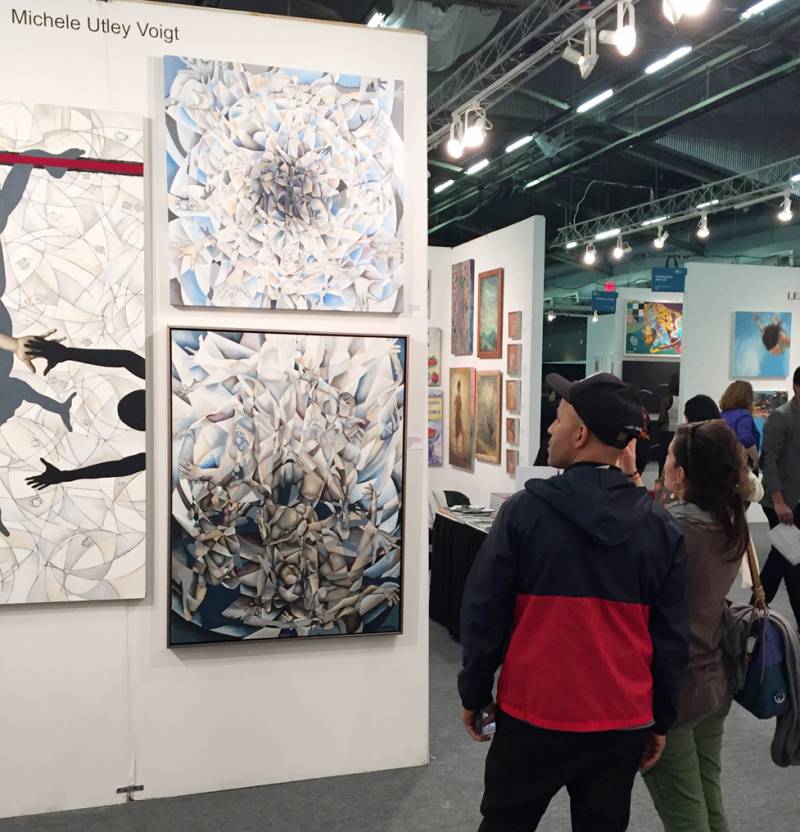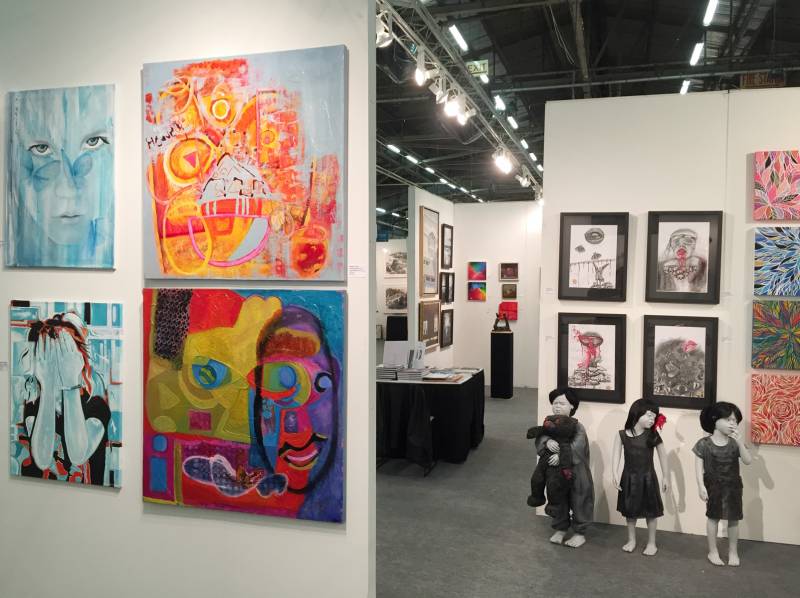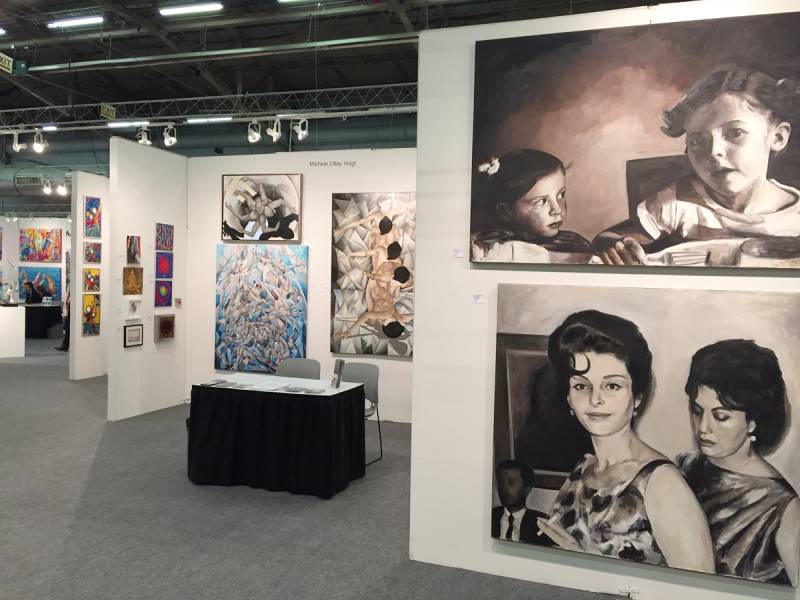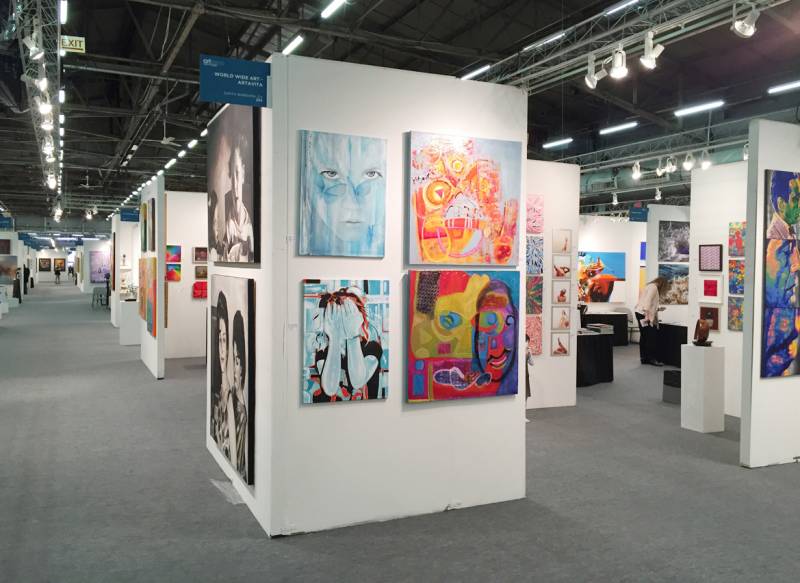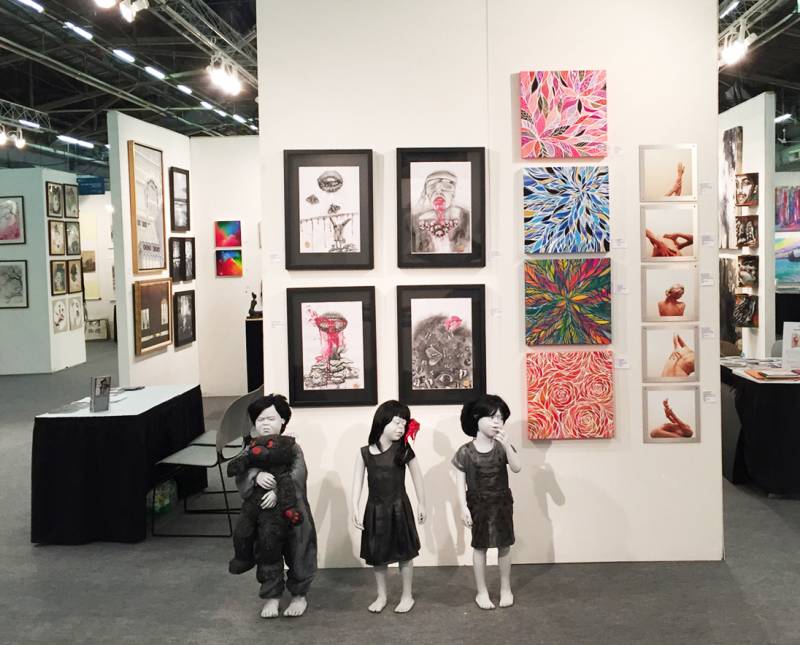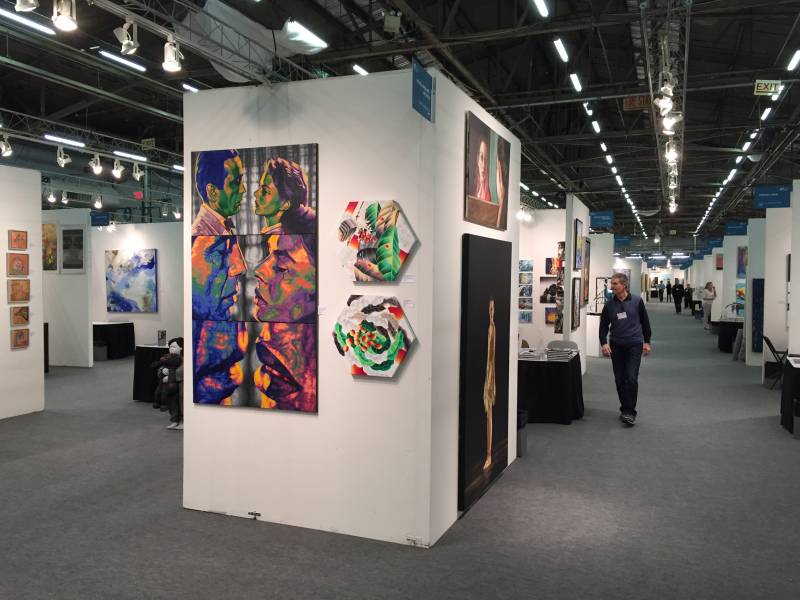 Call for Entries
We are now accepting applications from artists to publish in our books and exhibit with us at top art fairs. See Details and Apply Now!
Publish in our Books
Apply today for pages in our high-quality hardcover coffee table art anthologies. Curated by Despina Tunberg and edited by our team of professionals, these books are a must for the active artist who is looking to expand their resume and increase the value of their work. Fill out an application today!
Exhibit at Top Art Fairs
Apply to exhibit with us at the world's top art fairs. From Art Expo New York, Art San Diego and Spectrum Art Fair Miami, the World Wide Art and Artavita Pavilion is the best way to exhibit and sell your art as well as add important shows to your resume. Fill out an application today!
Read reviews by Artists Published in Our Books
"I participated in one of the contests promoted by Artavita on the publication on International Contemporary Masters XI. Honestly, I did not expect to win the first prize!
My work "Without religion" was published on the front cover of the same book. But, although I was excited to have received this award, I never imagined how important it was for me in the future! It is precisely for this prestigious publication that I have received contacts and invitations from all over the world. I met new gallery owners and I took part in international exhibitions and art fairs in some of the most important cities. All thanks to Despina and Thomas Tunberg who gave me this great opportunity…thank you so much!!!"
My art was published in International Contemporary Masters XI in 2017. I was very impressed with the quality of the book and especially with the response.  I received numerous invitations from galleries in New York,  Vienna,  Italy and other parts of Europe to exhibit with them.  I also participated in the Metropolitan Art museum's exhibition in Las Vegas,  which is open to all the artists who have been published in WWAB's books. As an artist from W. Australia, this sort of exposure is very important to my art practice and was really appreciated.  Despina also warns us of art offers we might receive that are actually scams, which is great.  If you are invited to appear in their books, just read all the reviews from the artists themselves and decide whether you think it's worth it.  I certainly do!
Jillian Grimbeek, W. Australia
It is wonderful to see my art published in Important World Artists 3. I have not yet received my hard copy of the book, but I am happy to say that I have already received an offer to exhibit my art in Vienna. I find the collaboration with World Wide Art Books a good investment in any artist's future career. I would like to personally thank Matt Benson and Despina Tunberg  for their professionalism and promoting artists. I am looking forward to participating in your future projects. Warmest Regards,
ARTAVITA /WWAB have contributed to the development of my career.
Since 2012, I have participated in its publications, art fairs and its annual
International Contemporary Masters Exhibition at the Metropolitan Gallery
Art Museum in Las Vegas. It proves to be very helpful. It has been a pleasure
working with its staff also. It is an organization which has genuine interest
in helping us, artists, and protecting us from scams. It is possible that its
publications are circulated digitally in the Far East, U.S. and EU, since I received
feedbacks from galleries in different geographic locations. It seems to have
helped also when the art books are distributed for free in International Art Fairs
and art events. I am happy and lucky to be able to acknowledge that my
participations have yielded good results.

Thank you, Despina Tunberg and World Wide Art Promotion
Ai-Wen Wu Kratz Art Studio
'Being published with my work in the artbooks of World Wide Art was a great experience for me.  I received many positive responses from art lovers and galleries in the Netherlands and other European countries and they admired the lay-out and content of the books.  I received invitations from galleries in Vienna, Lisbon, Hamburg and Amsterdam after these books were published.  I personally can add that  the co-operation with the curator, Despina Tunberg, was always extremely pleasant and positive. She is a great professional and she has an amazing talent for organizing exhibitions with art works appearing in the books or art works which artists have sent to her after their publications in the succesful World Wide Art Books. I would recommend anyone participating in these books'. 
- Herbert Hermans, Rotterdam, The Netherlands
Dear Despina Tunberg
Here are some recent gallery exhibitions I arranged with galleries contacted me because of my presence in the book International Contemporary Masters 11 and Important World Artists 2.
Aug 2018
LANDLOCKED? (installation), and FLOTSAM FIXATION, (sculptures), Amelia Douglas Gallery, New Westminster, BC
July 2018
ANCESTRAL DRIFT, (installation), Station House Gallery, Williams Lake, BC
April 2018
ROSEATE PEEP, (sculpture), Musa International, Madrid, Spain
Feb 2018
TALL WALL DRIFT, (sculptures), Parallax Art Fair, London England
July 2018
DRIFTWOOD EMBEDMENT, (sculptures), Amsterdam Whitney, New York USA
July 2017
LANDLOCKED? (installation), Grand Forks Art Gallery, Grand Forks, BC
July 2017, June 2017
ANCESTRAL DRIFT in BRANCH REFINEMENT (installation), Cityscape Community, Art Space North Vancouver, BC
ALSO In The Arts Centre, Port Moody, BC
April 2017
WALL DRIFTS, (sculptures), World Wide Art-Artavita, New York
March 2017
VIBRANT DRIFT (sculptures), Biennale D'Arts, Rome Italy
March 2017
TAPER, GRISWOLD, FLY,(sculptures), Metropolitan Gallery and art Museum, Las Vegas
October 2016
SANDGREN, THE SPACE BETWEEN, site-specific installation, ARNA, Harlosa, Sweden
July 2016
aDRIFT, (sculptures) international art fair, Parallax Art Fair (international), London UK
March 2016
LANDLOCKED? 35 Live Digital Exhibition, CoCA, Seattle, WA
Hey, my website tikimulvihill.com has imagery of those places.
Thanks so much for everything
"I'm very proud that my works are in this beautiful book. Thank you very much WWAB for having contacted me. There are already several galleries interested in my works".
A nearly decade long collaboration with wwab has opened many new doors and proven itself very rewarding. Thanks to wwab's publications my works have reached new audiences and markets and given me the opportunity to exhibit at some of today's most internationally acclaimed art shows. Moreover, the publications have led to successful long-term contracts with gallerists.
Sanna Myrttinen, Munich, Germany, www.sanna-art.com
Hi Despina,

the books are amazing, high quality paper and professionally edited, I am proud to be part of those projects in two publications. Congrats! Warmest
I believe that the books are very interesting, beautifully made and reflect the Spirit of Art. I have been contacted by several galleries in USA, less in italy. I find the company World Wide Art Books   very professional and serious and treats me with respect. I have been working with them since 2009, appearing in their art anthologies and participating in art shows with them in Miami and in New York. Thanks Despina and Thomas Tunberg
The book is very well edited and printed. The outcome is really impressive, also it's big format. I would recommend every artist to take a part in it. It's worth it! Great memory.
Marta Wapiennik - www.martawapiennik.com
Here in Greece the galleries I'm collaborating are very enthusiastic about your books (International Contemporary Masters 12 and Current Masters 3) and their high printing quality. Many galleries and curatorial companies have contacted me  through my presence in the books and at the Red Dot Miami 2017 exhibition.
World Wide Art books is the best all around the world in promotion artists can get. I have received invitations from galleries, more and more prestigious exhibitions like the Florence art Prize, events in Rome and other cities in Italy ending in Prizes and recognition. The curators are of most pleasant contact, very helpful, efficient and see to it that your art be presented at its best in their beautiful quality books amongst artists from all over the world to admire. The books are also a personal promotion amongst your friends, family, and contacts. The art contests organized throughout the year are motivating especially since they give discounts and prizes. Convenient   paiements by installments are offered, less « painful » way of participation. I am very proud and happy to be invited to World Wide Art books as well as to their exhibitions at New York Art Expo, Art Basel Spectrum Miami, Las Vegas and San Diego and I highly recommend this company.
Because of my presence in the book Important World Artists vol.2, I had the following results from art organizations that contacted me

Publications

・Circle Quarterly Art Review (Circle Foundation for the Arts) Spring 2018

・Art International Contemporary Magazine#3

・Spotlight Magazine (Circle Foundation for the Arts) 2017

・Co-Existence 4 Exhibition, ROSSOCINABRO GALLERY, Rome Jul-Sep 2018

・Graphic Art exhibition 2018.May vol.2 Group Exhibition, RECTO VERSO GALLERY, Tokyo)   May 2018

・The International Prize RAFFAELLO(Bologna)  May 2018

・The International Prize of NATIONS-Tribute to TIZIANO(Venice)  Mar 2018

・Dolomite Art Fair 2018 (Video Exhibition)  Feb 2018

・The International Prize LEONARDO DA VINCI-the Universal Artist- Award (Florence) Jan 2018

・JCAT SHOWCASE "Japanism" (Group Exhibition, One Art Space, NY)  Jan 2018

・The International Biennial of Mantova (Italy)  Nov 2017

Thank you Despina Tunberg and World Wide Art Books or giving me the opportunity.
I have been in 2 of the WWAB , International Contemporary Masters and Current Masters. Both books where very successful books for myself.I am still with 2 galleries that found me through these books, which would not have found me otherwise.  I think it's up to artists to invest into getting there work out there to the world and thats what the WWAB is all about. The books are very well done and they make a great gift along with passing them out to family and friends.I would recommend any serious artist to use WWAB to market yourself to the world!!
After you published samples of my work in Current Masters, I have been contacted by over fifty galleries and institutions and have been invited to exhibit numerous in galleries around the world, five among them in New York city.  I accepted one of the first and will have a show in Artifact Gallery February 2019. It is of course difficult to know the causes and effects of all this but I am pretty sure that the publication in Current Masters contributed to a major part of the international interest in my work. I get quite a lot of invitations to art fairs, but I´m not particularly interested. My preferred work form is towards single exhibitions which allows me to present coherent ideas. The February exhibition has the title «Female Runes «. The paintings are my runes. I appreciate very much to be on your mailing list,  Best regards,
I have had a great response to the book Current Masters. I give copies to the galleries that represent my work to be distributed to clients who buy or are interested in my work. Having my work displayed in book format makes me seem much more important I actually am! Credibility is a marvelous tool for marketing and opens doors that otherwise may be closed. Friends, family and especially clients love it. I'm ordering more!
Thanks to Despina Tunberg for the opportunity
"Having my photo art presented in two World Wide Art Books publications has been a very positive experience.  Getting recognized can be frustrating to the artist but soon after the books were published, I was contacted by a number of art galleries.  As a result, I am now represented by three galleries and have participated in several art shows.   It has been a privilege to work with Despina and Thomas Tunberg.  I am certain my art would never have been noticed if it hadn't been for their high quality publications."
Its been some time since I was featured in your Art Book. My experience was a positive one. I did get lots of offers from Galleries and I did very much like the experience to be featured in the Southern Fine Art Museum.
"I found the quality of books produced by wwab really gorgeous and was pleased to be included as a sponsored artist. They have been great as a promotional and marketing tool. A special thanks to WWAB for being supportive of the artists represented in their publications"
My participation in World Wide Art Books books has had a major impact on me as an artist to increase my possibilities of reaching out to international art galleries in a much greater extend than I could ever dream of.  In a direct result of my participation in World Wide Art Books I have been contacted by galleries from South America, Europe and USA , even a gallery in China has contacted me after seeing my photos in The International Masters of Photography. Another example of the result of my participation of World Wide Art Books in only the last 6 month is I had two Art gallery exhibitions in New York City, and exhibition in Milan, Italy and in Athens Greece as well as many e-mails from interested international art galleries in Europe. I can not thank the World Wide Art Books enough to let me participate in their art books.
Stefan Jellheden photographer/ image maker.
Worldwide Art Books has been a great opportunity for me and my photography experience. It has pave the way with opportunities to share my work with the world and allow me to connect and gain knowledge from other professional photographers. By participating in Artavita shows in Miami and New York, plus being apart of the "Masters of Photography" books, has open the doors from some gallery's around the world and allow me to submit portfolios of my work. Many opportunities to participates in Photo Contests has consistently come  my way. Solo shows in my home town has been a great opportunity. I would like to thank  Mr. Thomas Tunberg  and Mrs Despina Tunberg and Worldwide Art Book family for an opportunity of like time. I'm so grateful and bless. May success continue in the future. God bless
I was first introduced  to World Wide Art Books in 2016, by a fellow artist and good  friend.

After submitting several images for review, I was notified of my acceptance in Volume 11 of International Contemporary Masters, curated by Despina Tunberg. Upon it's arrival, I was extremely impressed by the excellent design and layout, as well as the high quality of the printing.

Shortly after, I began receiving invitations via e-mail, from galleries both national as well as international, requesting my participation. As a result, I have exhibited in several galleries in Chelsea, NYC, as well as galleries in various areas of Long Island, where I currently reside.

My next publication was in Important World Artists, Vol. 2, which was followed by invitations to show in Vienna, Austria, Germany, and Italy.  In May, 2018, having accepted the invitation, I was one of the recipients of the Raffaello Award, in Bologna, Italy.  This prestigious award was shared with fellow artists from around the world, several of which have become close friends. I firmly believe that the exposure World Wide Art Books has provided me with, has opened up opportunities which  otherwise would not have been as readily accessible.
I am very happy to have been chosen to be in the publications of World Wide Art Books. I have had lot of exhibitions offers from all over the world. I also had a exhibitions offer from the French gallery 'Carre d'artistes'. Thanks Despina and Thomas Tunberg
"After being published in International Contemporary Masters Volume 11 1I had exhibitions in France, Austria, Portugal and Italy. Great results I did appreciate a lot !"
WOULD I PUBLISH AGAIN WITH World Wide Art Books?
The simple answer to a non-artist and an artist is yes.
I am an award-winning artist with extensive and prestigious accolades; however, until recently I was not exhibiting at the levels I knew my works should be exhibiting. After many invitations from WWAB to include my work in their publications, I finally decided to give them a try.  What did I have to lose.
I began exhibiting at the Las Vegas Museum where several copies of past WWAB were free for the taking of the visiting public and gallery owners. "WWBA send their books free to an extensive list of art galleries, agents, and festival organizations both here and internationally." Artists published in the WWAB are given free copies to distribute or sell as needed.
During that exhibition the book containing photos of my work was released. Within a few weeks, an art representative from Florence, Italy contacted me.  I was asked to exhibit the images they saw in World Wide Art Books. Through this contact I have shown in their EU TOUR OF ART appearing in exhibitions in Florence, London, Paris, Venice, Milano, Lake Como and Cannes.
I began to receive invitations to exhibit from many venues, many of which I turned down and several of which I have accepted. When asked how did the representative know about my work, I was constantly told my work was seen first in the INTERNATIONAL CONTEMPORARY MASTERS XII chronicle curated by Despina Tunberg through the World Wide Art Books.
I now also have representation in Vienna Austria with an exhibition Shanghai China directly related to publishing with World Wide Art Books.
Several of my works and writing about my painting philosophy appeared in International Contemporary Masters 12 recently. It was great to see my work in this book and it added a strand of different media that I hadn't experienced before in my work. References to the book and the pages featuring my work were added to my website and were met with interest and perhaps inspiration from other artists. I was also contacted by several curators in Europe, stating their use of the book to find artists that could appear in their galleries and asked if I was interested in taking part in exhibitions with them. I am currently thinking about my next step in that respect and I have the book to thank for that.
Lucy O'Donovan, figurative artist
Despina Tunberg and World Wide Art Books, Thanks for accepting me in your books.
I would like to say thank you for having me in your beautiful art book and that the team is lovely.
My participation in "Current Masters 3  Art Book" and "International Contemporary Masters 12" were important experiences to promote my art and to expand knowledge, not only in the USA but also in the world, having even been contacted by a European gallery interested in work with me. I also had more opportunity to work with this interesting team at important Art Fairs such as Spectrum Miami 2018 (world Wide Art  & Artavita.

The excellent quality of the publications, and the honesty and responsibility of the WWAB team, captivated me and I am very grateful for having selected and appreciated my work.
I have been fortunate to be selected to be published in a number of World Wide Art Books' publications over the last 7  years . WWAB send their books to an extensive list of art galleries, agents and festival organizations both here and internationally. I'm always amazed when I get contacted by galleries and agents from as far away as China.  When I ask them how they found me I'm invariably told that they saw my work in one of WWAB's books. It doesn't get greater than this!
Dear WWAB.US
Thanks so much for selecting me to appear in your books. I can't tell you how much that has helped my career. I have been approached by so many galleries and arranged personal exhibitions in New York, In Vienna, in Los Angeles and I am still considering new proposals. Thank you sooooo much.
I have been published twice with World Wide Art Books ,  Current Masters 2 and Important World Artists 2.  When I received my copies, I was pleased to see that the quality of the publications was better than I could have hoped for.  This exposure has put my artwork out there for the international audience to see and from this exposure I have received offers from galleries and publishers from Italy, France, Portugal and the U.S. This has netted me a one man show and gallery representation in a New Jersey Gallery (with a New York mailing list.) It also led to being published in an art magazine out of Lyon France.
Thanks Despina Tunberg  and Thomas Tunberg
I have represented artists with World Wide Art Books for years and have found their annual book to be a beautiful representation of the talents of international painters, sculptors, photographers and those in the mixed media world.  The book itself is beautifully printed and care is taken to represent the artwork accurately.  The art exhibits that are associated with each printed volume is a wonderful opportunity to share space with artists of amazing talent and get exposure to a large audience of art lovers.  The staff and management have been a dream to work with; processing paperwork, correspondence and images to best represent artwork for print.
A wonderful book full of artistic inspirations. Thanks to Despina Tunberg and her team at World Wide Art Books to promote the beautiful paintings of various artist and mine. In particular was very happy to see my paintings has reached vast number of galleries around this globe. This book helped me to take part in shows in Tuscany, Italy, Steiner Gallery in Vienna and Amsterdam Whitney in NY. Also got a recent invitation from gallery in Bologna, Italy and in Rome, Italy.

Thanks WWAB for the great work you do!
"I love the books that World Wide Art Books produce. They are beautifully designed and a wonderful addition to any artist's portfolio."
Despina Tunberg and World Wide Art Books, I thank you and your staff for creating a wonderful book that is of the highest quality, beyond my expectations, but is looked at by galleries and buyers around the world.  I can honestly say that without your circulation I would not be as known in the US and Europe as I am. The books arrived as you promised and in great condition.  The printing is fabulous, and the typography is equally as good.  And when I ask you to select the images you felt best represented in the book your response was immediate.  What a refreshing treat to have a person, Despina, and a company do what they promise to do.
Based on the response I received from the first book I immediately signed up for another.  I couldn't ask for much better anything, responsiveness, printing, typography, shipping or distribution.
Thanks for your professionalism
A HUGE THANK YOU TO DESPINA TUNBERG , THOMAS TUNBERG and World Wide Art Books for selecting me to appear in the International Contemporary Masters, Book XII.  All your brilliant and very officiant work ( ncluding in that Owen & Design Team ) MADE MY DREAMS COME TRUE. – Also MANY THANKS for all your work on my 2018 CATALOG PUBLICATIONS in New York Art Expo and in upcoming San Diego Contemporary Art Show, the design looks fabulous!  I simply cannot wait to see the layout of my artwork for December catalog publication in Spectrum Miami Art Exhibition.  –  ALL YOUR WORK helped my career immensely. –  I have been approached by so many galleries in New York and Miami. –  Thank you so much!
I have enjoyed immensely working with World Wide Art Books. The quality of the books is always top notch. I have had some galleries approach me and have garnered a few sales directly linked to the art books. I would say that being a part of WWAB has been a very positive and worthwhile experience for me. I shall continue to use these books as a selling tool in the future. Congratulations on a successful series of books.
I am an artist who works as a journalist and had the pleasure of interviewing Thomas and Despina Tunberg about their wonderful company  World Wide Art Books and Artavita after seeing their impressive booth at New York's ArtExpo in April of 2016. Despina and Thomas were so grateful that they graciously offered to place images of my own artwork into one of their gorgeous books. The results were stunning! I received many compliments about the book and have since shown in several new galleries—even securing my first solo show! I would recommend this company to anyone.
Despina Tunberg, I will never stop to say thank you, thank you to be featured in the IMPORTANT WORLD ARTIST. I have received so many invitations from galleries and one of them for a Solo show from the gallery Steiner in Vienna Austria one of the oldest galleries.
Dear Despina, Congratulations. This sublime collection of World Art Book is an immense expression of contemporary art, it is the hidden witness of the virtuosity of the Artist. It's such an honor to share my own artistic experience with masterpieces that want to be polygonal facets, multiple and diverse, which unite by adjusting in this very beautiful art book designed by a team of professionals, to create a plural harmony where faith is made of impression and doubt, of realism and certainty, of abstraction and anxiety without being able to put an end to the interrogations of Expressionists and others " Sure-realist".. Dear Despina, I borrow the expression "with pride and without disproportion" to describe the feeling of the Sure-Realist who gives himself a syllabary where the panoply of happiness is combined with the humility of the spirit. Thank you.
Dear Despina Tunberg
Thank you so much for accepting me in the book International Contemporary Masters.
You changed my life and my career!
Thank you for sending us copies of Current Masters 2 book. Very interesting selection of artists and some great works in there. We have contacted some people all ready for our annual group show. Looking forward to the next one. Cheers
Thank you for all these beautiful photos. Your exhibition was fabulous and of quality. I am very happy about my paintings and they really look well. Thank you! I will go through all of the pictures again and choose some to share. Thank you very much as well as all your team for the splendid work!!
Fondly,
I collected today the parcel and I am absolutely astonished how great the books look! I am privileged to be included in WWAB catalog. Despina and You and the Team did a marvellous work! A HUGE THANK YOU TO TOU ALL!Warmly,
I really compliment you on your wonderful art books; they really have brought good luck to me as they are a reference for galleries exhibiting international artists, and, in general open-minded ones. The only country that has shown no interest at all is France, very closed up these days but I have been receiving invitations from many world exhibitions for some months now. I guess I'm in the circuit now thank to you and maybe Saatchi, at the beginning anyway.
Good morning Despina, first of all, I would like to inform you that I am very delighted by the positive feedback of Rudolf' Renfer's  appearance in ICM 11. I have had contact and inquiries from some serious European Galleries referring to the book. 
I received the books. They arrived in perfect condition and the book is beautiful.
Your quote in the beginning of the book is really great !
Cholla's pages are wonderful. I am very excited !
I have got a copy of International Contemporary Masters 2008 from Gun and I really
do like it very much. I´m sure the next one will be even better.
DEAR DESPINA,

THE BOOK IS VERY GOOD,

THANKS,
Dear Despina,

Yesterday I received the books by mail, they look very beautiful. I hope that something will come out of this promotion, would be nice to receive an invitation from A gallery in the U.S.A. to exhibit without any costs, because they appreciate the quality of my work..

Future will tell…

Thanks again, bye bye
Margareth Degeling, The Netherlands
Hello despina. I received the books. They look great!
Thank you for sending me the books. They arrived yesterday.
I liked them – interesting artists and great presentation.
Hi Despina, The book looks great!! Thanks.
Dear Despina, thousand THANKs for you for this international art book. It`s exselent and with quality. Warmest Regards and best wishes
Dear Despina,

today the book has been received to me. It is really wonderful and I have really enjoyed this high quality images. Thank you for your great work and reliability. It's been a real pleasure working with you.

Warm regards,
They book looks great. A very good cross section and great diversity. I may need to order some more for my various galleries.
It turned out very well. You have some nice work represented in the book. The color reproduction especially for Rainforest however was disappointing but that is not your fault. I just need to be more careful in proofing.
I received the book and thank you for it and congratulations. It very is successful and the colors are splendid!
I have this morning received my copy of Masters. Very nice presentation I am very happy.
Thank you,
I received my two books today and as you said: they are great!
Thank you for the book, which arrived today. It is great and I love it. I have already shoved it to some of my friends, who love it too!
Hi Despina,

I have received one book, is that alright? It looks far better then last year!!

Lots of love,
The book arrived just great. Bravo for your work.
J'ai reçu le paquet, lundi 02/03/2009 à Midi, en bon état.J'ai trouvé l'album luxueux et de belle présentation La page que vous m'avez réservée me convient.Dommage que je vous ai adressé une image
qui ne fait pas apparaître suffisamment la partie jaune -(à droite). C'est ma faute,mais c'est un point secondaire. Je suis très satisfait. Je vous adresse mes sincères salutations.
(Translated through Babel Fish:) I received the package, Monday 02/03/2009 at Midi, in good state. J' found l' luxurious album and of beautiful presentation .The page that you m' reserved is appropriate to me. It's a pity that I addressed an image to you who does not reveal sufficiently the yellow part – (on the right). C' is my fault, but c' is a secondary point. I am very satisfied. I address my sincere greetings to you.
The Artbook was magnificent – fantastic in shape, colours etc…And the hard cover – very good. I´m so happy about it all.
I have received the books. wonderfull ones. I wish plenty of success in the future
Thanks for the invoice. You are doing a good job supporting not only those artists, who belong to the central marketplace in Manhattan.
Best regards
C'est avec grand plaisir que je viens de recevoir les 2 livres "International Contemporary Masters 2009″ et vous en remercie infiniment. J'ai apprécié le soin de sa présentation et de sa réalisation. C'est un nouvel ouvrage où l'on peut contempler la diversité des oeuvres de nombreux artistes du monde entier. Je vais le joindre aux nombreux livres d'art de ma bibliothèque, dans lesquels mon travail artistique est présenté, tels que Drouot Cotation, Avanguardie & Grandi Maestri édités en Italie.. Encore toutes mes félicitations. Meilleures salutations à tous. Bien cordialement

Translated in English: It is with great pleasure which I have just received the 2 books " International Contemporary Masters 2009″ and thank you for it infinitely. J' appreciated the care of its presentation and its realization. It is a contemporary presentation where l' one can contemplate the diversity of works of many artists of the whole world. I will join it to the many books d' art of my library, in which my artistic work is presented, such as Drouot Cotation, Avanguardie & Grown Maestri published in Italy… Still all my congratulations. Better greetings with all. Cordially
Σήμερα έλαβα το λεύκωμα. Είμαι πολύ ικανοποιημένος από την συνολική εικόνα του βιβλίου. Δυστυχώς, δεν διάβασα ακόμα τον πρόλογο για να κάνω κάποιο σχόλιο. Εύχομαι να συνεργαστούμε ξανά στο μέλλον.
Να είσαι καλά. Dimitris Dimas
(Translated from Greek: I received the book today. I am very content with the general appearance of it. Unfortunately I had not read your article yet so as to make a comment! I wish to collaborate again with you! I wish you well.
I received the books and really love your choices. the art, the paper you used, the letters, everything is professional and looks very good. congratulation on your hard work, the result is great.
The book is great, congratulations!
My books have arrived! They look beautiful!
THANK YOU SO MUCH!!! I just received the book this morning and trust me its made my day!!! 🙂 The book is fab and so are the artists within it!!! my students love the book too! Thank u for the great opportunity hope I can be part of it next year too. Thank you once again.

Kind Regards,
I am  favourably impressed by the quality of the book! The viewer can enjoy this different version of contemporary art as an adventure. Thanks very much for your great work and I wish you much success! Best regards,
I have received the book it is very beautiful

Thank you

With pleasure
Hi Despina,

Yes I get. Thank you. I crossed its contents with a lot of interest and overdrafts of very interesting things. I find your selection very relevant because very representative of the tendencies.. Let us wish now that there is numerous for your work. Like your up-to-the-moment cross-section of new creation, my painting is the cross section of human..
Best Regards.
Hello Despoina!

yes I have received one copy of my book and it looks great! thank you!
I received the books, and they AWESOME!!!!
Good job! Very good looking!! Thanks so much!
the book is amazing. Thank you for cooperation. It will be my pleasure a new cooperation.
he books arrived today and they are absolutely GREAT!!!!!!! Once again thank you so very much for including me.  So many artists and so many amazing artworks from all over the world….wow!!!! We ll be in touch. Keep me in mind for next time please! Warmest regards
I am participating in a Biennalle in Mexico and I have a proposal from a gallery in London for a personal show. They saw me in the previous book (Masters 2008)
Hi there, yes thanks l got them on Monday, the book is great! The printing quality is much better, the images much more vibrant, and it's great being in hardback.

Kind regards,
Hello Despina , I just received the book and its very nice!
Hi Ms Tunberg
I received the books yesterday. They are really amazing and the rest
of the works in the book is beyond my expectations. I 'm sure that
people will pay serious attention to your efforts. We will be in touch
for your next art books attempts. Thank you for your proffesionalism!

Best regards,
Dear Despina, Oh Yes, I received them. Thank you!!!! they turned out great!!! Thank you so much!
Thank you, Despina I reeceived my copies of the book. The book looks great…good job.

Best,
Despina,
I received the books and they look wonderful!
I think the prints of the paintings are very good. Also, I think there is some nice work in the collection. I will be in touch about more copies once I get organized.
Hi Despina
I have received my books. They look great!
Thanks again
hi, everythink ok it is very nice book
The book looks very nice thank you so much for your hard work and wonderful result.
warm regards,
OUI super bravo à vous.
Salutations.
Greetings Despina….I am so sorry ….I do hope you receive This email….I am taking my computer back in tomorrow…I am having so much trouble receiving and getting out emails and it will not shut down!!!! So frustrating…I Did receive the books…THANK YOU!!! I just brought one over to my sponsor.. they were thrilled as was I…..I will write again when I have this thing fixed, as it seems the longer the mail the harder to get out….hope your well….Good JOB!!!! respectfully,
Hi Despina….The books arrived safely in Austria. I have to say this. I am really impressed with the professionalism, the variety of incredibly talented artists, the layout is fantastic and the hard cover was an excellent idea this time. Muche better presentation and quality. Are you working on 2010 now…..
Well done Despina….
I am so proud to be a part of this project you arranged. You have
done an excellent job, thank you! Kind regards,
I really hesitated when I was approached by Matt Benson asking me to submit art for appearing in an art book. I made an online research and I found out some people – anonymous – said it was a scam. Finally I decided to do it andI am so glad I didn't believe the negative comments! It boosted my career. I would never dream of such a success.

It has been 5 years and I am still contacted by art galleries and people who saw my work in the books.  Now I am signing up for every new book

WWAB.US

organize.

Thanks guys! Awesome work!
Since the book was released I have been approached by so many art galleries and organizations  that I would never believe. Thanks

WWAB.US

You really spread the word!